SuperPath® Hip Replacements in Droitwich Spa
SuperPath® is an incredible minimally invasive hip replacement technique which is now being used at BMI The Droitwich Spa Hospital. It enables patients to be discharged 48 hours after surgery and to walk unaided within just a few days post operation.
SuperPath® Hip Replacement is a total hip technique being performed by a growing number of trained surgeons, and by Mr Nadim Aslam at BMI Droitwich Spa Hospital. By never surgically dislocating the hip, there is little trauma to the surrounding muscles and tendons. With this surgical technique, the implant is built inside the body, so the hip is never twisted into unnatural positions during surgery – a common element to many other hip procedures. With the SuperPath® Hip Replacement, no muscles or tendons are cut during the procedure. "Patients have made an enhanced recovery with this muscle preserving approach and are more confident with their hips at an earlier stage. I believe this is due to the fact that by reducing muscle and capsule damage, they keep more of their joint positional sense"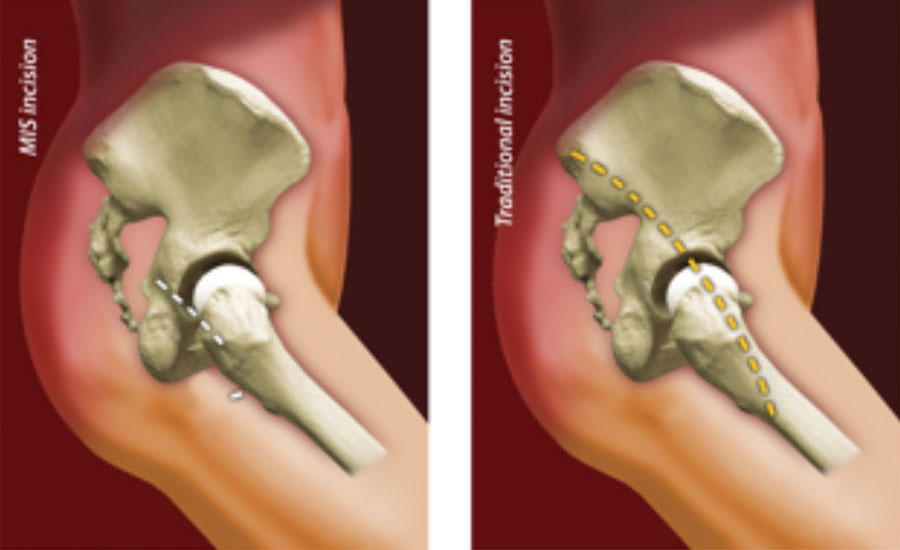 An incision in a SuperPath® procedure can be similar to the MIS incision shown above. This is often far smaller than an incision in a traditional total hip replacement procedure.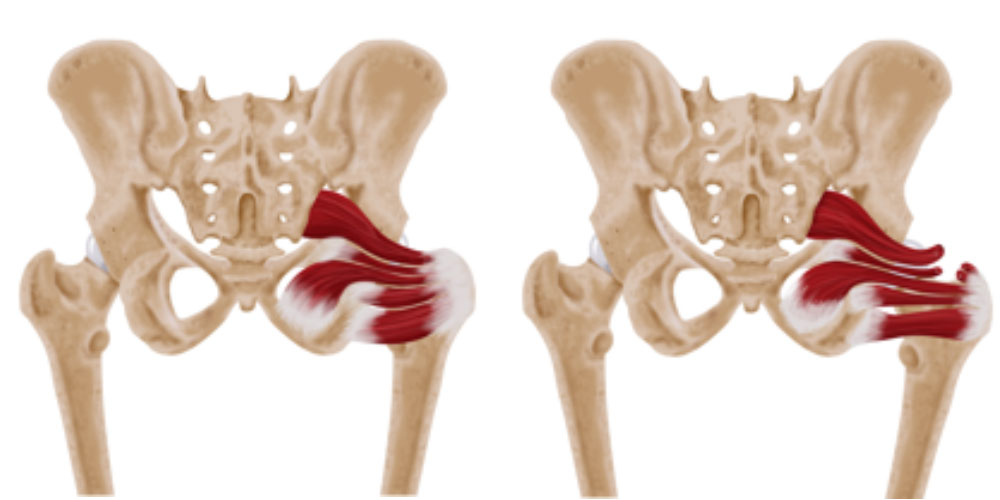 In a SuperPath® procedure (left image), key muscles are parted, and not resected (cut).
This enables the patient to mobilise swiftly after surgery, possibly returning to normal daily living activities, without restrictions, more quickly than in a traditional total hip replacement, where the muscles are resected (right image).
What Patients Say
SuperPath® Case studies:
We held a patient event at BMI The Droitwich Spa where prospective hip replacement patients met SuperPath® patients who were three weeks post procedure patients, all walked in without crutches. Mr Nadim Aslam presented and asked all three patients to talk about their experience. Last month he took members of Droitwich Spa's theatre team to an anatomy laboratory in Rotterdam, along with Ryan Wilson from MicroPort Orthopaedics for further training on the technique and has since performed more theatre lists at Droitwich Spa with demand growing.
The patients have been amazed with the results so far and are so pleased they chose SuperPath®.
JP
, aged 47 requested the technique after seeing a friend's dad have the procedure in the USA and saw his remarkable recovery rate in comparison to his father in law who had the standard hip replacement. From 5 days he was using no crutches at all. John leads an active lifestyle, heavily participating in marshall arts over the years, playing golf and also enjoying a lot of hill climbing. He noticed his hip had deteriorated over the years and knew having this procedure would give him much more quality of life. Less than a month after the op he was managing to bend down to tie his own shoes, put his socks on and also walk about a mile unaided.
GM
, aged 64, was amazed at how well his hip has recovered and how natural it feels. He is able to walk approximately a mile unaided and has even returned to work a couple of days a week. He was astounded by the recovery rate and so pleased he chose this procedure. "The only downside to this procedure was that my wife wasn't ready for me to come home!"
RG
, aged 67, could not believe how fast his recovery has been. As a keen cyclist he noticed some deterioration in his hip over the years causing pain and discomfort and thought he needed to bite the bullet and book in to see a specialist. He was thrilled Mr Aslam chose to use this technique as he can now walk unaided and can't wait to get on his bike again. His confidence is sky high and also can't wait to start driving again.
Mr Aslam said, in summary,
"A new Minimally Invasive, Tissue Sparing Total Hip Replacement. By not cutting any muscles around the hip and working through a small 'window' in the tissues, the hip can be replaced with minimal soft tissue damage. This leads to faster recovery, shorter hospital stay and long-term return to full function."